2023 – November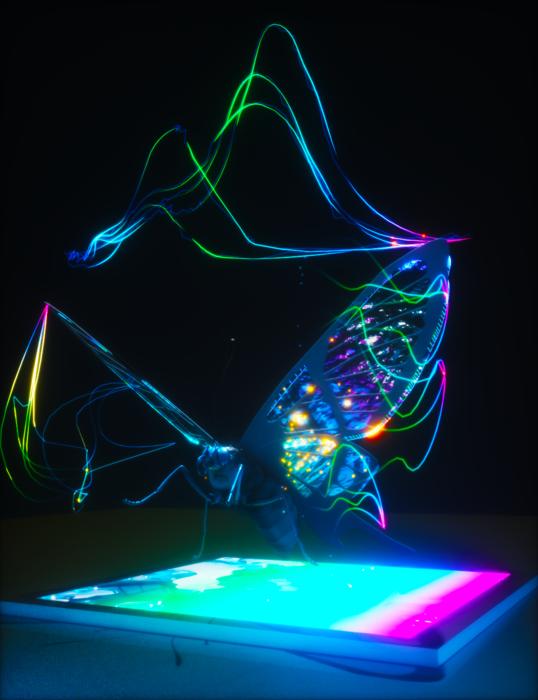 Our paper on bioinspired perovskite imager for wavelength resolved UV imaging is published in Science Advances. Here are some press stories: Eureka Alert, Engineering.
2023 – July
Our paper on underwater geolocalization is finally out. It took three years of data collection around the world to get this work published. Here are some press stories: Illinois
2021 – April
A new documentary titled "Life in Color with David Attenborough" used some of our imaging technology to film fiddler crabs in the mud planes in Darwin, Australia. You can see this documentary on Netflix. Check out the third episode to find out how our technology was used for this documentary.
2018 – October
---
2018 – April
Researchers at the University of Illinois at Urbana-Champaign and Washington University in St. Louis have developed a surgical camera inspired by the eye of the morpho butterfly. The camera, connected to the goggles a surgeon wears, sees infrared signals given off by tumor-binding dyes so that the surgeon can remove all of the cancerous tissue. Full story on EurekAlert!'s website. You can read more about it here: Fox News, CNET, Business Wire, Science Daily, Optical Society of America, eHealthNews, Express, Daily Mail, The Engineer
---
2017 – October
By mimicking the eye of the mantis shrimp, Illinois researchers have developed an ultra-sensitive camera capable of sensing both color and polarization. The bioinspired imager can potentially improve early cancer detection and help provide a new understanding of underwater phenomena, the researchers said. More information on youtube. Full story on EurekAlert!'s website. You can read more about it here:
---
2016 – November
NPR: The Snail-Smashing, Fish-Spearing, Eye-Popping Mantis Shrimp The killer punch of the mantis shrimp is the fastest strike in the animal kingdom, a skill that goes hand in hand with its extraordinary eyesight. They can see an invisible level of reality using polarized light, which could lead to a breakthrough in detecting cancer. More information on youtube. Full story on NPR's website.
---
2016 – February
---
2014 – October
Our work on early cancer detection using an imaging sensor inspired by the visual system of the mantis shrimp was covered by several news outlets. You can read more about it here: Smithsonian Magazine, The Scientist, Discovery News, Engineering News, Giz Magazine, IEEE Spectrum, RT News, Physics News, Peta Pixel, Fox News, Reddit, Alpha One, and many others.
---
2014 – September
---
2014 – August
Our work on wearable goggles that are used in the operating room to assist oncologist in imaging cancerous tissue was covered by several new outlets. You can read more about it here: WashU Outlook, Fox News, Bloomberg, BBC